Nissan Service Department

As service professionals at Mossy Nissan, we are committed to providing you with exceptional customer care. Our most important objectives are unequaled service and unparalleled workmanship. We strive to create an efficient process for servicing your vehicle, and promise to put you, the customer, first on every occasion. A commitment to customer satisfaction has permitted Mossy Nissan to be recognized as a professional leader in the automotive industry, and great service is our priority. We appreciate your business, and hope you have truly exceptional experience here at Mossy Nissan.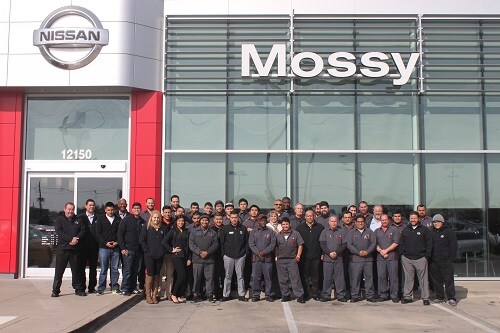 Our Customer Promise: 

As Service Professionals,
we are committed to provide you:
1.

  
FRIENDLINESS and COURTESY.
2.

  
A timely DROP- OFF PROCESS.
3.

  
An EXPLANATION of all work
that will be performed.
4.

  
Information on the STATUS of
your VEHICLE.
5.

  
THOUROUGHNESS of the WORK
performed on your VEHICLE.
6.

  
A CLEAR EXPLANATION of all
CHARGES and WORK performed.
7.

  
Efficient TIMING for completing the
WORK on your VEHICLE.
8.

  
A CLEANED vehicle that has been
WASHED and VACCUMED.
PLEASE NOTIFY OUR SERVICE MANAGER,
MICHAEL HRUSKA, AT 281-589-5323
IF WE HAVE NOT COMPETELY MET OR
EXCEEDED YOUR EXPECTATIONS ON
THESE COMMITMENTS.
WE STRIVE TO MAKE YOUR EXPERIENCE TRULY EXCEPTIONAL! 



Come to Mossy Nissan Houston for Nissan Service You Can Always Trust In
Maintaining a regular schedule when it comes to the service needs of your Nissan model here in Houston, TX is always a smart move, and an idea you can take advantage of with the help of our service team here at Mossy Nissan Houston. Both the condition of your vehicle and your satisfaction as a customer are the main priorities of our factory-trained technicians, and we plan on getting your vehicle back into the shape it needs to be to keep you happy on the roads for this year and plenty of miles to come.
Factory-Trained Technicians Equal Nissan Model Success in Houston, TX
Professionals are exactly what your vehicle needs in order to have its specific needs met and fulfilled. That is also exactly what you can expect when visiting Mossy Nissan Houston to have some work done. Our technicians undergo factory training and annual certification programs to stay sharp with their craft and technical ability diagnosing your vehicle and taking care of the oil change, tire rotation, brake repair, or fluid flush that it requires.
With access to the genuine Nissan OEM auto parts in our parts center, the latest innovation in mechanic equipment, and state of the art technology, you can trust that your vehicle is getting an extreme level of care with thoughtful attention to detail when scheduling your service appointment for the near future. Our expert mechanics want what is best for your vehicle, and will work extremely hard to make your entire experience a major positive from the very beginning.
Efficient Service Work While You Wait Comfortably
Our thoughtful approach to Nissan service extends to the time in which you must wait for your vehicle and the additional accommodations you may require. Featuring a drop-off shuttle service and available rental cars to help you get to work while your vehicle is in the shop, you won't have to worry about any of your productivity tailing off when deciding to have some servicing done. If you do decide to wait and get some work done in our waiting area, you will even be comforted by the comfortable lounge featuring flat-screen televisions, free Wi-Fi, drinks, snacks and much more.
What are you waiting for? Schedule your next service appointment today and begin reaping the rewards of quality Nissan service here in Houston, TX!